Innovator-(noun)-Someone who introduces a new way of doing something : One who renews or creates a new style.
There have been many men who have added to the NFL game. Men like Vince Lombardi, the great motivator come to mind. Men like Hank Stram are thought of as well. No conversation about innovating and changing the way the NFL game is played could be had without mentioning coaches like Bill Parcells,Bill Belichick as well as Cleveland Brown coach Paul Brown.
In this article I have chosen to highlight 3 of the NFL's all time innovators. George Halas, Bill Walsh and Tom Landry.
These three men have made strides and changes to the NFL game that still resonate in todays game and will continue right on up into the future.
George Halas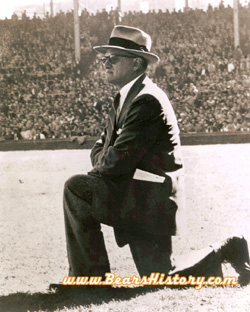 George Halas was probably the most important person ever associated with the Chicago Bears NFL franchise. Starting out as an employee with the A.E Staley Company in Decatur Ill,Halas played on the company football team. It was Halas who selected his alma mater's colors of orange and navy blue as the teams uniform colors.
After financial losses team founder Augustus E Staley turned control of the team over to Halas in 1921.In 1922 the name was changed to "The Bears" in tribute to the Chicago Cubs who let the Bears play their games at Wrigley Field.
Not only did Halas play for the Bears,he also handled the team business and even sold tickets. Even more incredible,Halas even coached the team. After 10 years Halas retired from coaching as well as playing. In 1933 Halas was right back to coaching for another 10 seasons.
By the end of the 1930's Halas (with help from University of Chicago coach Clark Shaughnessy) mastered the T Formation system, which was a new and dominating style that helped the Bears win the 1940 Championship game. All the NFL teams began to copy Halas and his system. With the Bears repeating as Champions in 1941, the 40's became known for the Bears referring to them as the "Monsters of the Midway."
The Monsters of The Midway
Halas finally retired from coaching after the 1967 season. At the time he was the oldest coach in the league. He continued as the Bears principal owner and handled team operations until his death in 1983 at age 88.
Halas had both a negative and positive impact on NFL Football as far as segregation. In the 1930's Halas refused to sign black players to the Bears. Eventually Halas had a change of heart and helped bring black players into the league. Halas would sign Quarterback Willie Thrower, who,playing for the Bears became the leagues first black quarterback.
Halas' innovative nature showed all over the league. His teams were the first to hold daily practice sessions.Also they were the first team to analyze film of other teams. Halas team was also the first to place assistant coaches in the press boxes where they could see the team as a whole. A method that is still used today. Halas team was also the first to broadcast games by radio.
Maybe George Halas most important contribution to the league was being a strong early advocate of "Revenue Sharing". Halas offered to share the Bears huge television income with teams in smaller cities believing that as the league did good so would his team.
George Halas record of 63 years as a owner,40 years as a coach,324 wins,and 8 NFL Titles makes him a charter member of the Pro Football Hall of Fame,which by the way is located on George Halas Drive. The Chicago Bears to this day still honor Halas with the initials GSH on their left sleeve.
Tom Landry
Tom Landry's life story is a little bit better known than Halas. I mean everyone knows about 'The Hat'.He was born in Mission Texas and attended the University of Texas. As a defensive back Landry's star shined bright.Playing defensive back in the AAFC for the "Yankees in 1949,by 1950 Landry moved to the New York Giants. In 1954 he was even selected as an all-pro. He played through 1955 acting as assistant coach the last two (54 and 55). Landry ened his career with 32 interceptions in just 80 games.
In 1956 Tom Landry became the defensive coordinator for the New York Giants opposite future Hall Of Fame coach Vince Lombardi who was the offensive coordinator.Together they appeared in 3 NFL Championship games winning in 1956.
By 1960 Landry became the first head coach of the Dallas Cowboys where he would stay for 29 seasons. After starting off the 1960 season with a 0-11-1 record,Landry would go on to win 2 Superbowls,5 NFC titles and 13 Divisional titles with a 270-178-6 all time record. Oh and did I mention Landry's 20 consecutive winning seasons (1966-85) a league record, Impressive to say the least.
When it came to innovation Tom Landry was ahead of his time and the "Flex Defense" was his baby.With eight natural gaps along the line of scrimmage,traditional defenses had four linemen control two gaps.The defensive tackle had to control the gaps between the center and guard and the guard and tackle. The focus was on power. Take away the blocker,find the ball and then make a play.Landry had his right ends and left tackles line up in spots along the line of scrimmage nose to nose with blockers. The right tackle and left end would line up a few feet back from scrimmage,that opened up better pursuit lanes.Landry then asked his defenders up front to control one gap apiece,except for the middle linebacker. He had to control two, The Flex gave them gap control at the point of attack,allowing everyone else to pursue.
As Landry got better players the Flex became the famous "Doomsday" front.
With his offense Landry brought in the famed "Shotgun"where his quarterback could stand five yards deep allowing him to see the defense and possible holes in it. Designed first as a running play for the quarterback,Landry smartly turned it into a passing play for his mobile quarterback Rodger Staubach. The Hail Mary pass from Staubach to Drew Pearson to beat the Minnesota Vikings in that years playoffs came out of the Shotgun. Twenty Five years later every NFL team has the Shotgun in its playbook, thanks to Tom Landry.
Landry even drafted in a new innovative way. Instead of the normal short,stocky players,Landry liked tall,lean players who took long strides and could cover more ground in the pass rush. Again 25 years later all NFL teams yearn for pass rushers who are shaped more like NBA power forwards.
Landry was also first to bring in quality control coaches. Quality coach Ermal Allen would go over game film and look for tendencies of opposing teams to give Landry and the Cowboys an edge. Today every NFL team has a quality control coach and many have two.
Besides being a man of integrity and class Tom Landry will forever be known as a master builder of todays NFL and almost always the first name mentioned in any discussion about innovators of the NFL.
Bill Walsh
Simply known as "The Genius" Bill Walsh's innovations on offense simply said.."changed the game. Walsh was best known as the creator of the "West Coast Offense. The unstoppable offense that if done right was nearly full proof.
Walsh began his football career as a somewhat average end at San Jose State in 1952-53. In 1954 he started his coaching career at Washington State High School in Freemont CA. Not long after that Walsh was hired as a assistant coach by future legendary head coach Marv Levy at California.
Walsh then moved on to Stanford before beginning his pro coaching career with the then AFL's Oakland Raiders in 1966. In 1968 Walsh joined the Cincinnati Bengals where he worked for legendary coach Paul Brown.It was with the Bengals that Walsh gained complete control over an offense.
Walsh begain working on a scheme that used short drop backs and uncomplicated receiving routes. Walsh practiced these schemes over and over during practices. These schemes years later became known as 'The West Coast Offense" a name Walsh never liked.
Walsh hated running the ball. He preferred a smooth flowing air game. After a falling out with Paul Brown, Walsh left the Bengals for another short stay with Stanford as well as the San Diego Chargers. In 1979 he accepted the job to rebuild the San Francisco 49ers. In Walsh first stint as coach his record was 2-14. Earlier in 1979 the 49ers drafted a young quarterback named Joe Montana to whom Walsh turned over the starting job. It was a match made in heaven. By 1981 the 49ers had their first Championship.
Under Walsh the 49ers added Ronnie Lott,Charles Haley,Rodger Craig and the great Jerry Rice to whom Walsh he considered like a father.
The number of successful coaches who came off the Bill Walsh tree reads like a who's who of great NFL coaches. George Seifert,Mike Holgram,Dennis Green,Sam Wyche,Ray Rhodes,and Bruce Coslet. Many of his assistants passed on Walsh's knowledge to other coaches including Mike Shanahan,Jon Gruden,Brian Billick,Andy Reid,Pete Carroll,Gary Kubiak,Steve Mariucci and Jeff Fisher.
Walsh also created the Minority Coaching Fellowship program in 1987.This program helped minority coaches get jobs in the white-dominated position. The program was later adopted league wide.
Walsh compiled a record of 102-63-1 with the 49ers. He won 10 of his 14 postseason games along with 6 division titles. Walsh was elected into the Football Hall Of Fame in 1993 mostly because he was a master with a chalkboard and a piece of chalk. I cant think of many men who did more to shape football more going into the 21st century.
In closing I would just like to add that while exploring these three men Ive come to see how much each of them embody the spirit of the innovator. Each in different ways but yet each of them seeing a need to take what had already seemed perfected and making it that much better. It was truly fun for me to write this article as it forces me to dig deep within myself to see if I have the spirit of the INNOVATOR.