The Doctor is in! This is designed to be more than just a summary of the past week's hottest and coldest MLB fantasy players. The Fantasy Thermometer is here to provide deeper analysis and make you aware of current trends that go beyond looking at rankings and weekly performances. I want this to be as helpful as possible to fantasy readers, so your comments and feedback are encouraged, as they will help me to determine how to compile The Fantasy Thermometer each week. This week includes a new format, as I've compiled a hot starting lineup, two hot starting pitchers and one hot relief pitcher. I've included a short list of cold, underachieving players as well. Thanks for reading; all comments are appreciated.
WHO'S HOT ON DR. STAT'S THERMOMETER

Catcher: Dioner Navarro, Tampa Bay Rays
Over the past month, he's hit .360 (89 at-bats). Last week, he hit .333 with 2 HRs and 6 RBIs. He's been fairly consistent all season. Despite having fewer at-bats, Navarro is 9th among catchers in RBIs, is hitting .349 and has played almost every day since the last week of April.
First Base: Ryan Howard, Philadelphia Philles
After a dreadful April (.168, 5 HR, 12 RBI), Howard hit .238 in May, with 10 HRs and 30 RBIs. Those are the numbers, along with an absurd number of strikeouts, that we expect from the former MVP. He's always been one to start cold, and then heat up over the last four months of the season. All signs point to the usual happening again this summer.
Second Base: Ian Kinsler, Texas Rangers
Playing for the Rangers and not being named Josh Hamilton doesn't get you much respect. However, Ian Kinsler is one of the game's brightest young players. For all players who qualify as second basemen, Kinsler is first in runs, second in steals and third in RBIs. He had a 19-game hitting streak going and had 2 or more hits in six of his last nine games.
Third Base: Joe Crede, Chicago White Sox

Last weeks numbers (.524, 5 HR, 12 HR, 9 R) are impressive, but were boosted by back to back games with 2 home runs. Looking deeper, he's hit .341 over the past month and his on-base percentage is the highest it's been since April 16. The White Sox are hot, and Crede is one of the biggest reasons why.
Shortstop: Hanley Ramirez, Florida Marlins
After making my Cold List last week, HanRam redeemed himself with a .357, 5 HR, 8 RBI, 9 R, 2 SB week. After going 16 games without a single RBI, he's back to being a force in the five major statistical offensive categories and is on a 7-game hitting streak.
Outfield: JD Drew, Boston Red Sox
His poor first season in Boston is a thing of the past, as Drew is on pace for a 25 HR/100 RBI season. He hit .296 in May and started June with a bang. Last week he went 11-for-20 (.550). He's provided a lift for both the Red Sox and fantasy owners. You're skeptical about putting your faith in him, but there's no reason to believe he won't keep producing, provided of course that he stays healthy.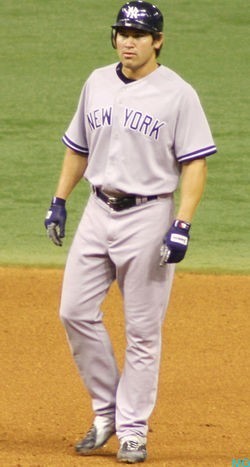 Outfield: Johnny Damon, New York Yankees
Johnny hit .548 last week, fueled by a 6-for-6 day on Saturday. After hitting .276 in April, he hit .306 in May. His on base and slugging percentages have skyrocketed, and being on base more translates into more steals and runs. He turns 35 later this year, but he's proven that when healthy, he's still a valuable fantasy player.
Outfield: Milton Bradley, Texas Rangers
It's hard to put into words the type of season that Bradley is having. He's on pace to destroy his best single-season numbers. Since the start of 2007, only Chipper Jones and Albert Pujols have higher on-base percentages with 400+ at-bats. He was the number one ranked player last week, posting a line of .550, 5 HR, 11 RBI, 9 R and 4 SB. For the season, Bradley's .340 average, 14 HRs, 43 RBIs and 44 runs are mind-blowing for a career .278 hitter.
Utility: Ryan Ludwick, OF, St. Louis Cardinals
Ludwick falls under the "How long can this guy keep this up?" category. Despite his hot start, Ludwick remained a free agent in many leagues until managers finally decided to put some faith in him. He hit .333 and drove in 16 runs in May. He is off to a slower start in June, so if a manager loses faith and drops him, pick him up.
Starting Pitcher: Scott Kazmir, Tampa Bay Rays
Since coming off the disabled list on May 4, Kazmir has gone 6-1 with a 1.40 ERA, a 0.98 WHIP and 44 Ks. He's been the best starting pitcher in fantasy over the last month, as his electric stuff dominates opposing hitters. If you drafted him late or traded for him when he started the season injured, you're reaping the rewards now.
Starting Pitcher: Edinson Volquez, Cincinnati Reds
While Josh Hamilton is having an incredible season, one can see why the Reds were willing to trade him. Not only did they Jay Bruce waiting in line, but they saw terrific potential in a young Edinson Volquez. He's 9-2 with a 1.56 ERA. His WHIP and K/BB would be much lower if he walked fewer batters, as he's walked almost as many batters (43) as he's given up hits (52). His 96 K's do lead all pitchers and he's been able to limit the damage from the trouble he gets himself into. The most remarkable stat of all? He has allowed only 14 earned runs in 14 starts.
Relief Pitcher:Francisco Rodriguez, Los Angeles Angels
He has 26 saves, which leads baseball, including 23 in a row. He's only blown one save all season and averages almost one strikeout per inning. In the last 12 games, he's allowed only 1 run and 4 hits. In short, he's as dominant a closer as they come.
WHO'S HEATING UP ON DR. STAT'S THERMOMETER

Jose Guillen: OF, Kansas City Royals
Guillen hit .367 last week, with 4 HRs and 10 RBIs, as he lit up Yankee pitching. After hitting .192 in April, he hit .308 in May. Many people forget that he hit .290 with 23 HRs and 99 RBIs last season. If he hasn't been picked up in your league yet, he will soon.
Justin Masterson: SP, Boston Red Sox
He's gone at least 6.0 innings and has given up just 1 run in 3 of his 4 starts, walking 12 and striking out 18. Despite being backed by the Red Sox offense, he's won two of those games 2-1. This shows he can pitch under pressure and in close games.
WHO'S COLD ON DR. STAT'S THERMOMETER

Victor Martinez: C, Cleveland Indians Last Month: .202, 0 HR, 7 RBI
David Wright: 3B, New York Mets Last Week: 4/22 (.191), 0 HR, 3 RBI
Alex Gordon: 1B/3B, Kansas City Royals Last Month: .235, 0 HR, 8 RBI
Brandon Phillips: 2B, Cincinnatti Reds Last Week: 5/30 (.167), 1 HR, 3 RBI
Brad Penny: SP, Los Angeles Dodgers Last Month: 35 IP, 0-5, 6.17 ERA, 1.69 WHIP